1 Peter 1:13 with Pastor Rick Barnett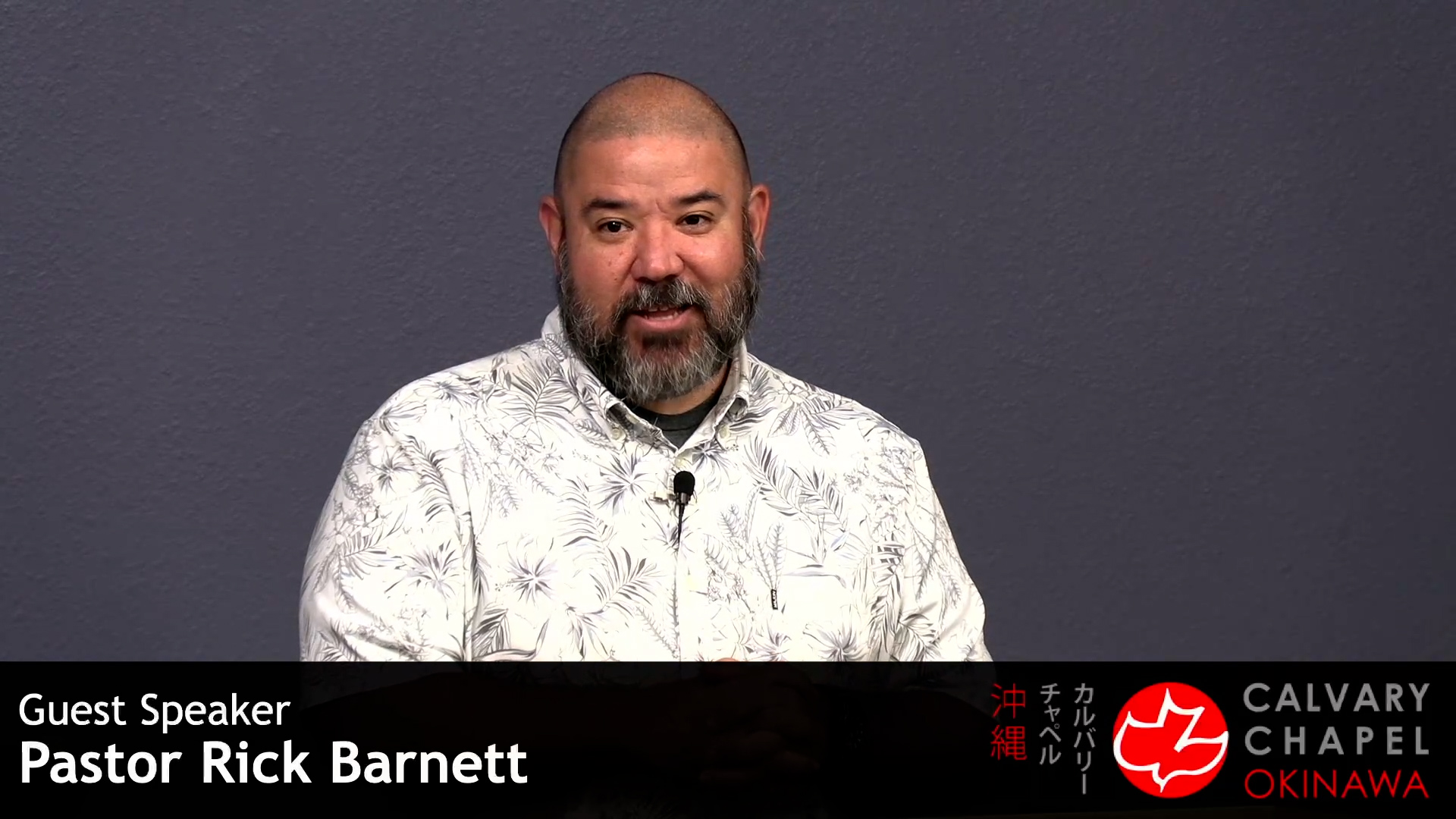 Did you enjoy this teaching?
Let others know!
VIEW TRANSCRIPT
Good morning. That was very kind and ridiculous. Thank you. Thank you. And it is. A real honor for me to be here this morning. Thank you. Bring greetings and love from our church in Okinawa and along with Pastor Tom and Tim and Rob and just the crew that that are out there, the Lord is doing a great, great work there. I'm really humbled, so thank you. Thank you for allowing me to be here. It's been too long since we've gotten to see each other. And for the guys in the gals that I know, as I mentioned for many of you, I feel weird. I feel like I've been transported back in time because, like me and Christy and our family. And we've we've. Aged and we've grown that everybody else is just whatever you're eating and drinking here. I need. I need some of that. Everyone's just cryogenically preserved. You look exactly the same. And it's crazy to think, you know, we we were launched out of this church. It was 22 years ago. And some change that the Lord. Kicked us out. The living water had enough of us and sent us packing to the island of my birth in Okinawa, to the island of my upbringing. And so being there now 22 years this round, you know, our hearts divided, you know, Okinawa's home. But this is home, but ultimately we know that, you know, heaven is our home. Man, I just want to say again thank you. And then my family, all almost all my families here with me this morning. But my better half my lovely, better half Christy is here with me, my daughter Rebecca. And then my youngest son, Ben. He's my stunt double. And then our our adoptive daughter adopted daughter Kiara from from Okinawa. She's came down from Long Beach to hang out. So thank you. All right, well. Let's jump in. If you have your Bible with you, I'd like to share from the book of First Peter. We're going to look at all of one verse this morning. It's verse 13 of chapter one. Does everybody have a Bible? First, Peter. Chapter one, verse 13. A church. Practice that we've gotten into for many years now, as I usually invite our church to stand as we read the Scripture in honor of God and his word. And so if I if you can indulge me, if you. Don't mind standing. As we do this. Now, if you're looking at verse 13 already, you know that it drops in at a transition. The word is therefore, and that's not the best way to start a Bible study, because it's like coming into the intersection and crossing over in the middle of the intersection. There's transition. There's a conclusion. And so I'd like to just read you from verse one all the way to 13, so you'll stand for a little bit, but you'll. Be able to stretch your legs and bear with me. Peter, an apostle of Jesus Christ, he begins to the pilgrims of the dispersion and Pontus, Galatia, Cappadocia, Asia, Bithynia. Elect according to the foreknowledge of God, the father and sanctification of the spirit. Peter writes for obedience and sprinkling of the blood of Jesus Christ, grace to you and peace be multiplied. Blessed be the God and father of our Lord Jesus Christ, who, according to his abundant mercy, has begotten us again to a living hope through the resurrection of Jesus Christ. From the dead. And he's given us an inheritance, incorruptible and undefiled, that does not fade away. Reserved in heaven for you who are kept by the power of God through faith, for salvation, ready to be revealed in this last time. Peter then adds in this you greatly rejoice. Though now for a little while, if need be, you've been grieved by various trials. Maybe that describes some of you this morning. We've been grieved and why he tells us that the genuineness of your faith being much more precious than gold that perishes and though it's tested by fire, the difficulty that you're going through it may be found to the praise and the honor and the glory at the revelation of Jesus Christ. Says whom have not seen yet. We love, and though you do not see him yet, believing you rejoice with joy inexpressible, full of glory, receiving the end of your faith, the salvation of your souls. And Peter adds that of this particular salvation of our salvation, the prophets had inquired and they searched carefully who prophesied of the grace that would come to you. Searching what or what manner of time, the spirit of Christ who was in them was indicating when he testified beforehand of the sufferings of Christ. The glories that would follow. Peter says it was to them. It was revealed, and not to themselves, but to us. And that includes you and me. Church family. They are ministering the things which now have been reported to you. Through those who have preached the gospel to you by the Holy Spirit sent from heaven, things which angels desire to look into. And here's our main verse. Therefore, Peter says, gird up the loins of your mind. Be sober and rest your hope fully upon the grace that is to be brought to you at the revelation of Christ Jesus. All right, that was a lot that we read. Let's pray. Father, what an honor. And a blessing for me and our family to be here. Or to thank you for. Just your sweet spirit. That has marked this place for so many years. For the genuine love and fellowship for the discipleship and accountability. Or for the. To the growth in our hearts. For your grace. That just. Pours out from this place. Or I ask that you would bless Jerry Kim, the leadership. Lord, just the continued work that you have here at living water. And Father pray as we have read. And now we study your word that by your spirit, you'd speak to our hearts. Be more than just taking notes on the side of our margin of our Bible or in a notepad. But Lord, that you would ride into our hearts. That you had changes from the inside out. And so Holy Spirit, we give you permission. We want to surrender fresh and anew to you that you would do, and you would say and have your way. And we thank you for it. In Jesus name. All right, you may have a seat. There's a lot going on there. Peter is Peter the disciple, Peter the apostle Peter, the one that had a big heart and a big mouth. He has matured in the faith at this point and he's writing to a group of Christians who were living in modern day Turkey. They've been scattered. He refers to them as exiles, as sojourners, as pilgrims. They're the 1st century Christians coming right out of Judaism. We call them Messianic Jews. And though they are God's kids, and though they've been saved, and though they have this tremendous blessing and promise of heaven, they were not exempt from rough roads and tough times. And how many of us today know that though we are God's kids, we're not exempt from trouble and trials and tribulations? You guys know that? To be true. Now Peter is writing to encourage them. And to exhort them, but also to remind them that that though they are God's kids, and though they go through some hard times, God hasn't left them. Ill equipped, in fact, in his grace, God has given them and given us some major blessings to help us navigate these struggles and storms and all the trials that we go through. He's given us his Holy Spirit is the first thing God has given us, his spirit, the Bible says. Paul writes to the Corinthians. Hey, don't you know that you are the temple of God and the Holy Spirit dwells inside of you and. The spirit has come and he's our comforter. He's the one that leads us into truth. He's the one that works in us to bear fruit in our life, to gift us so that we might use those gifts even as we, you know, we're blessed this morning that the body would grow together. He's given us his spirit. He's also given us his word. Right. This is the, you know, the the Bible, right? The the the. Book for me it's basic instructions before leaving Earth. All of those great things that we learned when we were younger and the word of God, it's a lamp and a light to our feet and our path. It's living and it. God intends. To speak to us and reveal himself through the scriptures. And so we have the word of God. We have the Holy Spirit, and then we also. Have each other. No one is called to be a Lone Ranger in the faith. You know, the Christian life isn't meant to be a solo adventure. It is where it's done in community. And and I I know many of you, I don't know all of you. And if you're this is not your church home. I would highly encourage I would be the first to endorse that this is a great place to plug into you and or if you're watching online and you've been watching online, you're looking for a church home, looking for a community that will genuinely love you. Genuinely come alongside, not judge you and encourage you equip. To you and and just pour into you. This is a great place. I am one of many of the product of God's grace has worked in this place and continues to do through do so through the Ministry of, you know, Jerry and Kim and and all of you. And so God's given us these things to help equip us and our our faith and navigate through these storms well. Peter is writing to them and and. When he gets to verse 13, he wants his readers to grasp the greatness of what God's grace has meant for us. The gift of God's grace. And what does it really mean to be saved then through Jesus Christ? He he had made it emphasis upon the fact that as Christians we get to experience. And enjoy the reality of that relationship. One that the prophets of old they they they only had preview of. They could only imagine they didn't understand the the nuts and bolts of it. They just had the blueprint of it, and God had designed it that way, gave them the clues and hints of a rescue plan that he hatched from the beginning of time. And then revealed it through profits and people and places and events and. All of it. Serves as this giant foreshadow of Christ to come. And and and. The Book of Hebrews is our decoder ring of that, where the writer Hebrews tells us that all of those things are pictures. They are like pieces of a puzzle that you put together and the picture in the box is Jesus. And so the furniture and the fixtures, the people and the places and the processes, the priesthood, all of it is this giant story picture book that we open up and it points us to Jesus Christ. And the prophets understood a part of that. They didn't have the whole picture. They had glimpses of this grace. They had pieces of this puzzle. It was like sneak previews of the of salvation to come. Do you guys like sneak previews or trailers? Is what they call them? You know, for many years I would, if we were going to the movies, if I missed, if we were running late and I missed the previews, I wouldn't. I felt like I wanted my moneys worth to be able to go and watch all the trailers and for me, the more the trailers the better. And so now they have an app, though right now you can not just watch trailers all the time. You know, I don't even need to. Go to the movies. I just watch trailers. They were watching a trailer. They're having a sneak preview of salvation and an intrigued them. It says they inquired about it. They wanted to know. Of course they didn't have Google back then, and so they're praying in the spirit they're trying to figure it out. But so that they have this preview, but they didn't have the reality. They didn't. They didn't get. To experience it like we do. And that's what Peter's. Been saying to them. They got excited for it. But they didn't experience it. You know, it's like my trip coming here. I was talking to our our church in Okinawa and and getting my request is that you pray for Japan and Okinawa. God's doing a really sweet work there amongst the Japanese we've seen. I wouldn't say like great awakening or revival. It's more friendship evangelism. It's patient evangelism. You know, it's relationship building for weeks and months and years, but we've seen a handful of of the Japanese and Okinawan folks coming to faith and even not too long ago, at 85 year old lady, that we got to pray and lead her. To Christ the sweetest thing. She is in our my office. And she said I'm 85 years old. Can Jesus really forgive me of all my sins? And I said yes, he can. And he wants to. And the sweet lady just start crying. Oh, I broke my heart and we got to baptize her and her profession of faith for Christ. And then just not too long ago a married couple, Aki and Kyoko. Son and she, both of them. I think in their 70s. Received Jesus Christ as their Lord and savior. We baptized them a couple of weeks ago as well, and so. The Lord, soon a sweet work, so continue to pray for Okinawa and Japan. And and I'd add, you know, some of you guys know our our ministry is a little unique in that we have a lot of military service members and contractors and family members probably makes the majority of our church and. There's a lot of stuff happening in China. If you're watching the news, North Korea, and so, you know, the there's a lot of activity because of those things that are watching the neighbors. And so would you just, you know, be in prayer if you think about it, you can pray for our military families. And community Kiara's father is a retired marine, and that's how we came to know her and her family as well. But when I was preparing for my trip here and talking to our family and our, you know, church folks in Okinawa, I'm trying to describe it to them. I'm showing them pictures of my last visit and and so they can. They can experience it a little bit right, like carefully through these things through explanation, through my rhetoric. But they're limited because it's just explanation and rhetoric. They don't. They don't get the experience. They don't get to realize it. It's like if some were to say to me, and often people say, oh, I I make the best. You know, whatever. I'm me. You're like, why make. The best posole. Or make the best brownies. When I hear that or someone says my wife makes the best thing I you know, I usually say I say those are just words to me. It's it's my subtle way of like ohh yeah, let me be the judge of that, right. Anybody here make the best posole or? It's just words to me, and Peter is telling these guys listen for the prophets and those who preceded Christ. It was just words to them. Beautiful words, powerful words. A promise to come. But they didn't get to experience it like we get to experience it. And so that's what he leans into. He he's leaning into. Don't you realize the amazing. Gift that God has given us, that we get to experience Christ now and our salvation, and what it means for. Us that we get to partake in the reality that was just a promise to others before them and it's way better than pesoli. It's way better than brownies or snickerdoodles or whatever it is that you know is your thing. It's life eternal. And now that we have this gift, what do we do in response to? This is what Peter directs us to in verse 13. That's the conclusion. Therefore, all of that, just to say. All right, therefore, we appreciate God's grace and appreciate it well. But now how do we apply it? How do we move from appreciation to application? And so this is where he goes, he says. Therefore, of course, that's the Bible's way of getting our attention, right? It's the Bible's way of saying, hey, hey, I got something for you because of these previous truths. Here's what you need to know. Here's what you need to do. Here's how you respond to this considering. All the amazing things that God has provided us in our salvation, all that he's done, even the rough. Because even Peter says, listen, even the tough times God has ordained God's using that to build your faith. God doesn't just drop you off in the corner of life and be like, alright, I hope you figure it out and I'll meet you on the other side when you're done. Right. He goes with us. His promises are that all things are going to work together for good. Even the hardest of things. Even right now, if you don't understand why you're going through it, listen, do not let go of God's promise to you. He is good. He is faithful. He will see you through. In light of all of these things, then. What do we do? How do we respond? Again, it's important for us. To understand how God often lays out doctrine and then duty. You know what we do flows from who we are. What we do flows from who we are. And who we are, if you will, flows from what God has done. And what God has done flows from who God is. It all starts with God, because God loved you, because God so loved the world. What did he do? That God is love and God is light and God is gracious? What did he do? Well, God sent his only begotten son. To live for you die for you. To make atonement for you and for me. Because of who God is and what God has done well, it then tells us who we are and because of who we are and the Lord, that then should determine then what we do and see. Religion gets it backwards. Traditionally, religion begins with, well, you should do, and if you do these things, then you can be. And if you can be, then you'll please the Lord and you'll please God, and so be good, do good, and if you can do good enough, then God will be pleased and you'll earn favor with the Lord. It's completely backwards. The gospel says that even while you and I were yet sinners, even before we were doing anything. Good God still was good. God still was gracious. God was still merciful and God was loving. And God demonstrated that love for you and for me, by sending his son to die for you, even while we were yet knuckleheads. And idiots and in sin, and having nothing to do with the Lord because the Bible says it's God's kindness that leads us to repentance. We love God because he first loved us. And when we begin to understand God's love and his grace and his goodness, then our response to God then becomes repentance. Our response to God becomes gratitude. Our response to God becomes worship, service, giving. Peter told us it's through God. The father's abundant mercy. Though we've been gotten again to a living hope through the resurrection of Jesus Christ from the dead, this is the amazing gift. And So what does God want us to do in response to that, he says. Note with me, gird up the loins of your mind. Geared up the loins of your mind. That's a funny expression. We don't use that term today. Anybody used that term? Gird up your loins. If you said that to someone, you'd either get punched or they'd run away from you, right? That's a weird term. But it's an expression from Bible times back in the Bible days. Even some places in the world today, there are men who would wear these long tunics, part of their culture. These robes down to their feet. That was just, you know how they rolled. And so to gird up your loins meant that they would take the the the long row. The long tunic, whatever that excess fabric was, they would, you know, grab it and wrap it up, and they would. Tuck it into their belt. And it would make like these makeshift baggy shorts, or like. A big diaper. Like the Bible, times of sagging it, right. And so they would, they would. Gather the extra fabric. It was necessary, and why would they do that? Well, they wanted movement, freedom of movement. So they could run so they could work so they could fight if needed. Any any freedom of movement they they would gird themselves up, they would be ready for action, whatever that might have been. You know, today I think the equivalent would be like rolling up your long sleeves or taking your tie off, or tucking it in, you know, to your shirt. So Peter uses this metaphor, though for our minds, it's a metaphor for our minds. Other translations will read have your minds ready, or prepare your minds for action. That's the idea. Get ready for this. So if you're a note taker here, here's the first thing we can take from what Peter is challenging and encouraging us with is really simply this. We need to take charge of our thought life. That's what it amounts to. Take charge of your thought life. Do you ever think about what you think about? Does that mean then gird the idea of girding? Implies several things more than I we have time to cover, but I'll just give you 2. It implies readiness. You're ready for action. You're ready to go. You're ready to respond. And it also implies resolve. There's a determination there. It's not iffy, it's not wishy washy. You're ready and you're resolved now. Readiness is a term that in our church, a lot of the military people. And if you're prior military, you mean you're familiar with that term? You know, it's one of the things that they talk about mission readiness. If something were to happen, if all of a sudden China decides to attack Taiwan or the crazy guy in North Korea. All right, this is it. Are they ready to respond? There's a readiness there. And it's not. Just getting ready. It's the idea of being ready. You know, we're coming on this trip. I was getting ready. That's part of it. You have to make an evaluation. And that's, I guess that's where it begins with just evaluating your priorities. Have you done that recently? I know for me it's usually around the beginning of the new year or sit down. I'm looking at my calendar. I'm looking at just commitments and I make an evaluation like, OK, what's what are my priorities in this season? What do I want to do this year? What do? I want to accomplish. What I want to, you know, attempt to happen to lose some weight, to workout more, to drink some more water, to be a better reader, to be a better leader, to be a better. Father, be a better husband. And those are all. Good goals, but in order for them to happen I have to at least make an evaluation of, alright, what's happening in my life now that I gotta change, I gotta alter that. I gotta cut out and prune away that I gotta modify so I can move myself towards that direction. I think it's always good, you know, no matter what time of the year it is and if I can encourage you just to take spiritual inventory of your life. Where are you today? How's your walk with the Lord today compared to last year? How about compared to when we were in? The middle of the COVID stuff. Have you grown in your faith? Have you been obedient to the Lord and stepping out and being stretched and the things that God has called you to? You know it. The military guys when they're. In their mission readiness, they are. Often doing what they call exercises and it's not like exercises. You know, like these kind of exercises. It's like war games. They'll play scenarios through. What would happen if this happened and this happened and they and they go on these deployments? On the number of Marines will go on these boats with the sailors and the Navy, and they go out on float. The thing called the MEW, the Mission Marine Expeditionary unit. The Air Force guys will posture. They'll get. And so there's these exercises, there's these appointments. They're like war games. And they and they have. Little time for what's non essential things. You know Paul. Describing our faith in various ways to Timothy, he says. It's like a farmer. What else does he say? One of them, he says it's like a soldier. Like we are combatants. In our faith, right, we're part of the spiritual warfare that's taking place and and when you're in that mode, you know, you're not going to be. Allowing yourself to be distracted by, if I can say the silliness or stupid things. And yet we do that all the time. What are? What are we giving our attention to? What are we giving our energy to? What are we giving your time to? Readiness means then we're willing to make the adjustments that's needed. And sometimes the things that we're giving our time to, they're not necessarily silly things or wasteful things like scrolling on social media, mindless, just entertainment. That happens, but sometimes there are things that suck the lifeout of us. It's fear. It's worry. It's anxiousness, anxiety. And we allow that to fill our minds. And then we become overly concerned about things that we have no control over. When Jesus says, do not worry about tomorrow. I think the Lord knows he's gracious to us, right? He meets us where we're at. He understands, we can become anxious. That's why he says, hey, don't be anxious. In fact, in everything, count your blessings with Thanksgiving and just bring that stuff. Bring that worry to the Lord. And what does he do? It's the greatest exchange program. We bring our worries, we bring our cares and say all right, Lord. Here they are. You know how I I can't sleep at night. I'm doing the mental chess game. I'm not sure about my money. I'm not sure about my kids. I'm not sure about my marriage. I'm not sure about my future, whatever it may be and and and God says OK, just leave it here. And here's what I'm going to give you an exchange. I'm going to give you a piece that surpasses understanding. It's going to guard your heart. It's going to guard your mind. You don't have to panic button. We need to take charge of our thought life and we do that enabled by the Holy Spirit, right? It's not one of those. Let's pull ourselves up by our own bootstraps. Kind of a thing like all these things that God commands us or done. We we're we can be obedient because of the Holy Spirit enables us to do that right. Have you guys found that to be true? But are we more concerned, though, that we find ourselves more concerned about our stuff? Than we are about God's purposes. We're more concerned about things. In his second letter, Peter is going to say basically my paraphrase, if I can say this. There's going to be a day when Christ comes and he's going to judge the world and it's all going to burn baby. The only thing that's going to be left is Tupperware and cockroaches. It's all going to burn. And he says if that is what's going to happen then. How ought we to live? How are we to live? Sometimes we can be so, so wrapped up with worldly pursuits and worldly cares, and in these things it ain't going to matter. And so Peter is challenging us. Therefore, in light of all that God has done and all that God has given us, let's think soberly. Let let's take charge of our thought life. And how we think through things and and and it means then to have a readiness of our mind and readiness then means to make an evaluation, to be ready means that we need to make adjustments. We worry too much or we're pursuing worldly things too much. We have to put out of our mind those things that could impede our ability to respond to God's direction. God tells the Ephesian church that we should dirt ourselves with the belt of truth. It's the same word gird. Gird yourself with the belt of truth. It it's the idea that we're it's the word of God. What do we where do we find our anchor? Where do we find our foundation? Understand that girding your mind, you know, when you gird the clothes, it it allows for freedom of movement. It also it it's taking the loose, if you will. It's taking the undisciplined. It's taking the, the the. You know the excess. And you're tucking that away. All that's unfit. And so here here's what amounts to, you know, the way that we think. We'll determine the way that we live. We're always moving in pursuit of our biggest thoughts, like our thought life, your thought life will lead you. Things that you think about. And if you think about it enough, you will then find yourself in pursuit of that. And we can leverage that for good and we let that become loose because loose thinking will often lead to loose living. Care about something? You have no discernment. And so it's dangerous for us not to guard our thought life. It's dangerous for us to be careless about what we allow our minds to entertain. We don't post the guard there. And all of a sudden we're just scrolling all of a sudden there's something else, and all of a sudden we find ourselves in. A place we thought we'd never be. There's a spiritual war going on. Do you know that for your heart and for your mind, the biggest, the biggest battlefield, that you and I fight on is in our thought life? That's where it begins. And there's a spiritual war for the hearts of the people. There's a spiritual war for your kids. How many of you? Are parents you have kids? You know, there's a spiritual war for your. Kids and you know where they're fighting. You know where Satan is fighting in their minds. If he can grab a hold of their thought. Life, if he. Can grab a hold of the way that they think. Right, there's all these ideologies that are floating around godless ideologies. And if you and I as parents, grandparents, aunties and uncles aren't prayerfully intentional about guarding that that threshold, we're just allowing anything to come in the way of entertainment, the way of social media the way. Of music. Don't be surprised, then, when your kids and your grandkids and our, you know, our our friends, kids, whatever, all of a sudden they're like, where did, where did you get that thought? Why are you saying that? Why are you doing that? Well, it started with the belief it started with. Something they were taught. They didn't get it from us, right? Where did they get it from? Music and movies and Hollywood. And sadly, school sometimes. It influences them. And they they develop a worldview that's completely the, you know. The antithesis of what God says, that we should do. So church family, we, you know, I realized a little bit heavy. But I think it's important. You are seeing and I am seeing we're watching our kids who we love and who we care about. And sometimes we feel like what, what can we do? Well, certainly we can pray for them. Certainly we need to be teaching them the truth. But also we need to be guarding, lovingly discerning like, what are you watching? What are you listening to? Cause things no dummy. Right. It comes in subtle. And I don't think I have to convince you there is an evil ideology in multiple forms that's trying to, you know, permeate the church and permeate our kids minds. In our minds, this messaging that they're getting. Through the media and through school, and so. We can't. Afford to be lazy and unguarded in this area. So girding also means. That we're ready. Ready for action because we're resolved. Were resolved. What are we resolved on? We're resolved on what is true and what is right. We know the mission set. You know the guys in the military, they're trying to figure it out. Like, how do I fire this gun? How do I? Put on my boots. They're they're beyond that. They're they're resolved. They already know they they've determined. OK, this is the enemy. This is our course of action. And for us as Christians, we need to determine what is right and then when we determine what is right, then we do what is right. In the Book of Daniel, when they're taken as young guys, right, they're they're they're stolen from the youth group. And then they get tempted. They're in Babylon. I think it's Daniel 1/8. It says that Daniel had determined or purposed in his heart, that he wouldn't defile himself with the King's delicacies. These temptations to to lure his flesh. Then his faith would follow to be compromised. And he's like, I'm not doing that. That's determination that that's what it means to gird your mind. You're ready and you are resolved. And what does that mean then? For us, it means think biblically #2. If you're don't take it means think biblically, how do we resolve things? We need to go to the word of God. And here's the question we can answer. What does God's word say about this? So often we're Googling things or asking our friends and our neighbors, or listening to you know, podcasts and reels and news. You know, popular newscasters, and we're getting our information for them. And the question they ask is that true? Is that true? And sometimes it is, and sometimes it isn't. You know where you can go. That will always be true. Where can we go that. Will always be true. We don't have to question the the validity of it. We don't have to. It doesn't. Need to be vetted? It's here, right? It's the scriptures. It will always be true. And so to gird our minds means that we're resolved. It means that we're ready, but it means we're thinking biblically. I have known Jerry for a really long time. And from time to time I get to watch the podcast and the stream here. And you guys are blessed. You have an amazing Bible teacher. Loves the Lord, loves his wife and he loves you guys. And he and he loves the word of God, and he is a great teacher. And so you are being fed well, but they're a part of that, those to make sure that each of us, you know, each of you you. Have a responsibility. To be in the word of God. So we don't. Think biblically. We just let our guard down. We become we can become guilty of what the Hebrew writer says. You know, we become dull of hearing. And if you remember the book of Hebrews, they moved from dull, of hearing. Then the warning was don't be dull. Then, he says, be carefully that you don't drift. Then, he says, be careful, you don't depart. It's almost like there's a formula. You become dull like, oh, I know that I heard that. I don't care. Then you begin to drift a little. Right. And what you believe then turns into action. And so often what happens is this is what you really believe. It doesn't really matter. You know what happens then? Your church attendance becomes spotty. You don't show up for prayer. You're not the men's breakfast. You're not involved in these other things. Here's what you believe. Turns into what you do, and eventually you're off the ranch, right? You're sideways. They've departed. King, where God invites us to this amazing privilege that we get to worship him with all of our hearts, with all of our soul, with all of our strength. And I think on purpose, he adds. With all of our minds. Right. Our, our. Faith is not a check your brain at the door and then come in and be empty minded. It's a reasonable faith. Is it through Isaiah? Is it Isaiah, the prophet Isaiah? Come let us. Reason says the Lord. I want to engage our brain. God wants to cultivate an intellect that we would think well and think critically. That we'd ask questions and and you know, and and the Lord's not afraid of our questions. You know, sometimes we think, oh, I have these doubts right. It's OK. God's not afraid of your doubts. And I love that scene in the upper room, and Jesus has resurrected and he shows up there and remember who's missing, who's missing, who ditched church that night. Who was it? Thomas, very good, right. And then we call him doubting Thomas. Doubting Thomas turned into ditching Thomas. And Jesus shows up, then, then the guys find him in the the midweek. They're like dude. You missed it. Church was off the hook. Jesus showed up. It was incredible. He's like, oh, I better not miss again. So he shows up the next service. And then sureness, Jesus shows up. You remember that scene? And Jesus says, hey, my paraphrase. Hey, bro. Go ahead, stick your finger in. Be kind of gross, right? He said go ahead. And I love that. See, the Lord invited him, even in his doubts. You can you can. Test me, you could question the alert, not afraid of those things. OK, we don't have. To be afraid of those things. We bring them to the Lord. Our fears and our doubts and our worries see God wants us to use our brain. Let's think biblically, and I would add this, let's think critically. Ask questions. Do you know why you believe what you believe? Are we equipping our kids that way? You know, the statistics say that kids, quote UN quote, lose their faith when they go to college. How's that happening? How are we losing our kids? When they go to college. I think it's because of this. We're not cultivating this intellectual this, you know, just it doesn't have to be lofty. I'm not talking about that, but just knowing what we believe and why we believe what we believe. Because the world will love to tell our kids what to believe. And we are products of that too, right? Many of us. Grew up in school. He was a biology major when I was in college, I wanted to be a doctor. God had other plans for me. But for the longest time, I'm like, oh, that's it. I want to be able to taste it. Touch it. You know, I I want empirical data. If I'm gonna believe it. I wanna be able to see it. And the world says. Here's how the world describes value to us and our kids. You can be whatever you want. You can change whatever you want. You don't like it, then you can become something else. Because what? What is the world telling our kids? What did the world tell us? We came from the goo, then the zoo. Then you. But the Bible says something completely different. The Bible says Nope, you, you and I were created in the image of God. You have value of worth. Nobody else can tell you anything different, not even yourself. And sometimes right. Our own doubts. And am I even worthy. Lord says yes, you are. I loved you. I saved you. I gave you life. So church family, we we don't want to be biblically illiterate. We don't want to be biblically lazy. The world is a is a minefield of lies. It is a minefield of half truths and twisted reality. And how can we discern how can we navigate through those things? It is the word of God. It is a light and a lamp to your feet and your path. This is how we can see. And that's what Peter is saying to us. This is what Peter's saying to them. You're going to. Go through some stuff. Oh, God's blessed you, your God. You belong to the Lord. But here's your responsibility. Think critically. Think biblically. Gird up your thinking. Don't let it be disheveled. Don't let it be lazy. Don't be mentally slothful. If you know first Peter because he's going to say because the battle is still coming. You're going to get punched in your faith. It's the spiritual battle and you don't want to become a casualty. Because you were neglectful. In your thought life. And so he says, great up the loins of your. Mind, what else does? He say, he says, be sober. This phrase literally means to be free from drunkenness or the effects of intoxicants. And there's something to be said about the practical application of being sober, and the Bible doesn't explicitly prohibit drinking alcohol, but it certainly cautions us on the limits and the wisdom of crossing a line into drunkenness that is sin. But here Peter is using this figuratively once again. It it's to refer to spiritual sobriety. A spiritual sobriety. Ephesians 518 Paul says to them, don't get drunk with wine. That's debauchery. Or dispensation dispensation he, he says, be filled with the spirit. And so the idea word or the idea here when he uses the word sober, it means it means evenness. It means calmness. It means temperate. It means to be clear headed. It's a state of mind and spirit where, you know we're self controlled. We're not. It's not high highs and low lows of our emotion. When I getting wigged out and hitting the panic button. It's it's the. It's the ability by the spirit to make a sound judgment. You remember your BC days. I can tell you a lot about my wife. 'S PC days, you guys ready? The juicy gossip just get. Drunk people often act outside of their normal inhibitions. They often do stupid things. They become a caricature of themselves. Overly exuberant, overly joyful, or overly angry, overly frustrated, or overly sad. Overly, you know, melancholy. And they often make terrible, terrible judgments. That's why they they say, don't drink and drive, right? That's wise advice. Because you make poor decisions. When you're in that state of mind and poor decision that can lead to hurting themselves and hurting other people, and so the same thing spiritually, God says. I want you to be spiritually clear headed. One should be spiritually sober, self controlled. Don't be intoxicated by the world. Don't be distracted and desiring the things of the world. Because we use the same term when we talk about being drunk on power. Intoxicated, with pleasure, addicted to money. And sometimes that people there, they're pursuing those things, they're looking for pleasure, escape and pain or from their pain, I should say. Excuse me. They're looking for escape from their pain. And So what do they do? They don't turn to scripture. They turn to other things to dull that to distract them. To take them away for a moment, to entertain them. It's a temporary. It's a temporary, worldly narcotic. That when it wears off, the pain. Is still there. And yet we chase those things, thinking that's the solution. And then we become addicted. We become hooked. It's the deceitfulness of those things, and if the Lord calls us to be sober minded. Can see ourselves for who we are and see what Christ is in our life, where we are and and and what the results will be. There's another aspect to being sober minded. Sober minded also means we're not so disheartened and defeated when temporary troubles come our way. Sadly, have been meeting more and more in counseling with people who. I feel like they've adopted this nihilistic attitude. It's just this morose mindset. Overly worried about the future, overly worried about what's next? And what happens when you think that way you? Go that way. And so they're stressed out. That affects their body like they have the these, you know, physiological issues going on and they have these medical issues going on and then it impacts their relationships and then they're irritable with their family. And then it just becomes this compounded issue. And then be around and there's no. Joy at all. And if there's any joy around it, it's almost as though they just kind of suck the joy at other people. They become inebriated. With worry. The cares of this life. And as Jesus, you know, in the parable, talking about the seed and it's the worries that choke the word and they choke out the joy and fear that eclipses faith. And so here to be sober means that we're going to be level minded. You notice this word being sober. He says be sober. And rest your hope fully upon the grace that be brought to you at the revelation of Jesus Christ. And that word, sober, is often coupled with. Be watchful, be awake, be alert. Paul, writing to the Thessalonians, he says let's not sleep like other people do. The ideas like, don't don't just be in drift mode. But let's be watchful. Let's be sober. First Thessalonians 5-6. You know. Maybe for you the issue isn't that you're chasing worldly trinkets. Or you're not downcast by trials that come your way. Maybe for you and for me, maybe the issue is you're just indifferent. You care less. Kind of have like this lazy fear attitude. Like I don't care. And yet even that, that's not a good lane to be in, Paul tells the Christians in Rome. We got to do this knowing the time that's already the hour for us to awaken. For salvation is nearer to us than we first believed. Romans 1311. And so church family, I think for some of us. It's we just need to wake up. And the the term woke in the culture today, right represents an ideology that's not ours, a belief that's not ours. So as Christians, we don't need to. Be woke. We need to be awake. Awake to what's happening in the world around us. It's not that we've been lured by the enemy. We've been, we've been lulled to sleep by our own ignorance. But I don't like. I'll just play it safe if I don't know anything. Ignorance is bliss. No, the Bible says ignorance is dangerous. Right. Because it's just as dangerous to be drunk and driving as it is to fall asleep at the wheel and driving. The result can be the same. As I say this in love. For us as a as a family of Christ that we need to wake up in this present reality and be ready. And what does he say? He points us to the future. I need to buy you a new clock, Jerry, or I. Maybe I need glasses. Rest your hopefully on the hey, we're in Okinawa time, right? Rest your hope fully on the grace the original Greek word here is rest, your hope. It's all piezo. It means to fix it means to set it means to cement means to concrete. Absolute assurity it's not. Like well I. Hope this is gonna happen. Well, I hope. Pastor, it doesn't go too late. I'm really hungry for tacos. Right. That's that's going to be an unrealized hope. It is an unwavering expectation of good things to come. God promised it, God said, and God's going to do it. And so that's where Peter brings us. Let's direct our thinking to this. Be resolved. Be ready. Don't be lazy. And here's the last one. Don't put your hope on anything except for God's grace. You can bank on that. You can. You can rest fully on the grace of God. Because he's got you, it will bear the weight of everything that you bring to him. Everything that you think is holding you down, taking you back, the Lord says in love. Bring it. I got you. Too often we set our hope on something temporary. We set our. Hope on on something just immediate and fading. The hope of the Lord and the grace of the Lord God will never fail you. God will never fail you. And he will carry whatever you bring to him. All several years, many years ago now, I had got a kidney stone. I didn't know what it was at the time. I thought I was going to die, so I called my. Wife and like I think this is it, Christy. You guys, I think I shared this before and I told her. All right, call. The kids, I'm going to say my goodbyes because I don't know what's happening. Then I told her, hey, if I go, it's OK. If you want to get remarried, you know, just wait at least a year. Then she said, oh, I can start dating right away. I'm like, no. No, just wait a little bit. The ambulance came. I thought I was going to die and the Japanese ambulance they brought out this, their version of a Gurney. It was like a skateboard. It was like a skateboard on a ironing board thing. And not and I'm. Like looking at it, I look at. The guys. And they're I got to stop. They're they're, like, doing the Japanese like. I don't know. And so I was so worried, I didn't even. Want to get on it so I just put one cheek on. And then I just rolled it like a skateboard. Like a little. Into the ambulance. I wasn't sure that things going to hold me. Listen, Jesus can hold you. We can rest fully. On the grace of God. Where do we put our focus? We put it on our hope of the Lord over and over again. Peter is going to remind us Christ is coming back. Over and over again, he's going to pull down. He's going to pull down the backdrop of eternity and say, hey, whatever you're going through, remember where we're going. Whatever you're happening right now, whatever here is a perspective for us. Heaven is our hope, and heaven is our home. And that's why he calls them pilgrims and sojourners. We're just passing through. Don't get too attached. Don't get too attached to the things that you think are going to bring you value. And guess what? Don't get too attached to the things that that worry you. That frustrate you? We're just temporary residents. And so in light of God's great gift of salvation, we can live with great hope. And that means joy. That means expectation. That means, holiness. All right. Amen. Let's pray. Lord, thank you. Help us by your Grace to take charge of our thought life. That we would think biblically and critically. That we wouldn't be lazy in our thinking. We allow our thought life to drift. What help us to be mindful that we guard our minds. The gateway of influence into our home and our children. Or help us to be sober. To be spiritually clear headed. Not overcome with emotion on the world today, it seems like feelings are king and emotion is king. If we feel it, then it's OK if we. Lord, that that's not the way that you call us to go. Help us to. Be anchored on your word that we wouldn't worry about the things that we have no control over. And God, for some of us, it's time that we wake up to spiritual reality. You're coming back soon. We don't have time to be playing games. Some of us are pursuing things that in the end will have no eternal value. God help us. To put our hope in you, not in anything else. Because everything else really becomes sinking sand, it can't hold the weight of all that we bring. But you can. And so Jesus helped us to keep our focus on you. We love you. We praise you and your. Name we pray. Amen. Amen.